Although there's nothing quite like the soft feel of carpets, it has its downsides. Unlike hardwoods or vinyl, carpets are not always easy to clean and can be susceptible to staining as well as contamination. If you have small children or pets, being sequestered in your room with them for long periods can easily become a serious problem.
Fortunately, there are ways to disinfect your carpets without having to call a professional. This article will demonstrate how you can disinfect and deep clean your carpets without making use of a steam cleaner.
Tools and ingredients you'll need
Scrub brush
Bucket
Old rag
Liquid detergent (liquid dish soap)
White vinegar
Baking soda
Prepare the area
Before disinfecting your carpet, remove any furniture and/or smaller rugs from the area. At this point, you should vacuum the dirt and debris from your carpet.
After vacuuming, sprinkle baking soda onto the carpet to help eliminate some of the lingering dirt. Wait five minutes before adding your chosen cleaning mixture.
Read More: 6 TIPS TO ENSURE YOUR CARPETS LAST LONGER
Concoct your mixture
Add a combination of liquid dish soap, vinegar, and cold water to an overflowing bucket until the mixture is foamy. Test the stain remover on an inconspicuous area of your carpet so you don't ruin the color. Do not use this product if it stains your carpet; continue to use it if it does not.
Scrub your carpets with the mixture
Sprinkle the dry carpet cleaner onto your wet scrub brush and then lightly scrub your carpet. Use caution when using too much liquid to clean your carpet. You should have enough water to get the fabric wet, but not so much that it will become soaked or dripping.
When scrubbing a carpet, work from one side to the other so you rewet your brush as needed. Allow the mixture to sit for at least five minutes after scrubbing so that it has ample time to work.
Rinse the carpet with cold water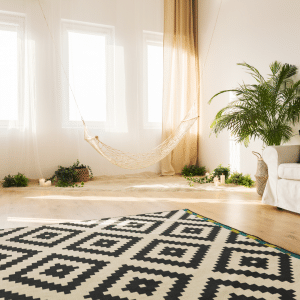 To keep your carpet looking new, you should wipe it with a damp rag to remove any dirt and grime. This will pick up any dirt or dust that the carpet cleaner has loosened from your carpet.
You'll want to have multiple wet rags on hand and change the water if it gets too dirty.
Read More: HOW TO GET RID OF CARPET MOTHS
Dry the carpet
It's recommended that you wait to vacuum your carpets on a day that is hot and low in humidity since this will accelerate the drying process—unless you can vacuuming outside. You can use fans to help with the drying process or even open a window to let it air dry.
Vacuum the carpet
This process will start by vacuuming the carpet and end with that same activity. Vacuuming will remove any excess soap you might have left behind. It will also pick up any debris that you might not have seen after cleaning. Now you can enjoy your clean and disinfected carpet. Your carpet will now be clean and sanitary.
Call to discuss your carpet cleaning needs today
Disinfecting your carpet won't be a Herculean task. You can do it with items you already have at home. The best way to clean your carpet is often with the help of a professional steam cleaner. We can come to you for a free quote! At Carpet Cleaning Newcastle, we do all the work. We offer thorough and guaranteed commercial carpet cleaning services for any size/type of business or home.